8.8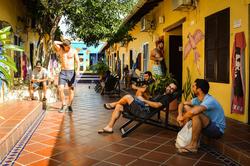 Viajero Cartagena Hostel
This fun and friendly hostel has a buzzing outdoor on-site bar, a comfy TV room and two patios. All great places to hang out and meet other travellers. They also offer dance lessons (salsa, bachata, champeta), there is often open mic nights and it's very usual to see people playing beer pong.
Average dorm price: 8.84 €
7.5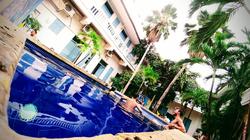 Media Luna Hostel
Featuring a beautiful patio and rooftop swimming pool and located in one of the city's coolest neighbourhoods, there is always a fun party vibe in this hostel. They offer free breakfast, free tours walking tours, salsa and another Caribbean dance classes and a weekly legendary party with guest DJs and live music!
Average dorm price: 10.4 €
8.5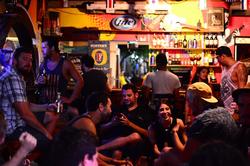 Hostel Mamallena
A charming fun hostel with lots of character. With a great friendly backpacker atmosphere and a buzzing bar not only for guests, it's a great place to meet new and interesting people. They have 2x1 on drink specials and they even let you bring your own alcohol into the hostel (which is not the usual in Cartagena). They also provide free pancake breakfast and, as a bonus, they have in their staff a super-friendly dog, a cute cat an apparent constant flow of kittens.
Average dorm price: 9.1 €