Snooze Guesthouse Yogyakarta
Great eco-friendly social hostel, with a beautiful garden area. Free healthy breakfast is served every morning. The common room is a perfect social spot where guests like to chill and exchange fun travel stories. The staff is very friendly and welcoming, always happy to share useful tips and information. Free coffee and tea available during the stay.
Average dorm price: 7.5 €
9.5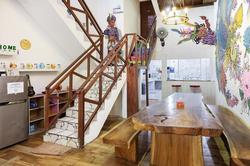 OstiC House Yogyakarta
The hostel features a huge communal area with free tea, coffee, and cool library. The main common room is beautifully decorated, with a huge social table where you can chill, play cards, board and drinking games. If you don't want to skip your regular workout, there is a nice mini gym available 24/7.
Average dorm price: 5.28 €
Lauras Backpacker 523
Nice social hostel with a friendly atmosphere and fun vibes. The lovely staff is preparing a tasty breakfast and dinner for all the guests, absolutely for free. In the evenings, the common room is always crowded with travellers, ready to taste amazing Indonesian cousin. After dinner, the best thing to do is to go to pub crawls in nearby bars and clubs.
Average dorm price: 5.7 €