8.9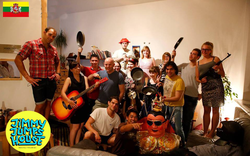 Jimmy Jumps House Hostel
Jimmy Jumps has an exceptional social and party atmosphere. It has interesting and innovative decor and cozy balconies. Its plush common room and outdoor terrace are perfect spots for making new friends. The staff are friendly and they organise guided tours, pub crawls and popular machine gun tours and many more events. The place is ideal to hang out with fellow guests. The atmosphere is lively.
Average dorm price: 9.5 €
8.4
Hostel Jamaika
Located close to major tourist attractions, Hostel Jamaika has a positive party atmosphere and an energetic, vibrant atmosphere. Its cool terrace and balcony, guest kitchen, backyard and an on-site bar are all great guest socialising zones. The staff are energetic too. They organise movie nights, burger days, parties, live concerts and a lot more fun events to keep their guests engaged. Jamaika bar and backyard is a key nightlife exploration point in the city.
Average dorm price: 11.0 €
8.5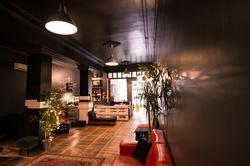 B&B&B&B&B
This hostel features unique space and style with a lounge, an entertainment zone and a restobar downstairs. The rooms are spacious with high ceilings wooden floors and a cozy common seating area that is great for socialising with fellow travellers. The bar is open 24 hours serving delicious beverages. The staff are amazingly helpful. The hostel organises a range of parties and events to encourage socialising. Its indoor skatepark, organised night club events, theatre plays and techno music parties at the club downstairs make it a thriving party hostel.
Average dorm price: 9.0 €