8.8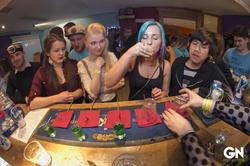 The Monk's Bunk
Run by backpackers, this hostel has an amazing party environment. It features a large common room with a cool backpackers' bar and pool table, a cinema room, a relaxed atmosphere where travellers can socialise and party. The city's best sights, numerous clubs, bars, pubs, the main restaurants and nightlife are at a close proximity. The staff are friendly and they organise exciting activities like AK47 shooting, various walking tours of the city, pub crawls, in-house parties, themed nights, beer pong tournaments and so on.
Average dorm price: 10.0 €
8.9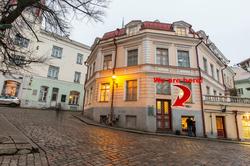 Tallinn Backpackers
This is one of the best party hostels for backpackers in Tallinn. It has a social and comfortable environment. Its spacious common rooms are good places for guest socialising, sharing a few drinks with fellow travellers, partying during the evenings before heading out for daily pub-crawls together, assisted by qualified party-smiths. The staff are friendly and informative. They organise a number of activities to engage their guests in a fun interactions. Daily activities include many alternative offbeat tours of the city, free walking trips to Lahemaa National Park and AK47 shooting. The overall ambience is energetic and is perfect for both solo and group travellers.
Average dorm price: 10.0 €
8.7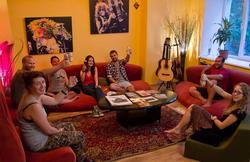 Euphoria Hostel
Euphoria grabs your attention at the first sight with its splendid colourful graffiti on the front door, amazingly creative interior decoration, and its relaxed atmosphere. The property features a nice on-site bar, common room for guests to socialise, a large projector screen for movies and sports shows, and many musical instruments. The hostel has quick access to all the area's main touristic and gastronomical attractions, pubs and clubs. The lounge of the hostel is an ideal place to hang out with fellow travellers while sipping your favourite beverage till 11 in the night. The staff are sociable and they organise musical jams, concerts and workshops in the lounge throughout the year. They'll happily help you with local tours, party events and pub-crawls. If you are a musician, you will be given free accommodation in exchange for a performance or organising a workshop. The place has a fantastic social vibe.
Average dorm price: 13.2 €