9.0
Divanga Hostel Taganga
Great party hostel with a wonderful terrace. The swimming pool is amazing, along with a nice yard where you can chill in cosy hammocks and chairs. The lounge and vibrant on-site bar are great for bonding with other backpackers. With an amazing staff and free tasty breakfast, this hostel is a perfect place for every traveller.
Average dorm price: 8.32 €
8.8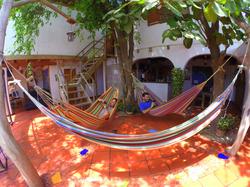 Republika Divanga Hostel
Republika Divanga is a perfect hostel for solo travellers, students, and party maniacs. Great courtyard with hammocks is a great place to chill and meet guests from all around the world. There are lots of fun activities like themed dinners, happy hours, DJ sessions, walking tours, snorkelling, fishing, boat trips, etc.
Average dorm price: 5.46 €
7.9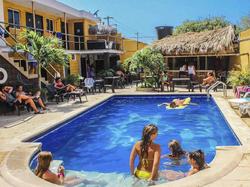 Nirvana Hostel Taganga
Amazing party hostel with vibrant on-site bar always crowded with people. The pool area is the main social spot, especially when the parties are going on. The bar is hosting regular events like live music nights, DJs, happy hours, etc. Plus, the hostel is just a few minutes walk from the beach, local bars, and clubs.
Average dorm price: 7.8 €