9.4
Reykjavik Loft HI Hostel
The Loft boasts a beautiful rooftop terrace where you can meet other guests and share travel stories. A huge on-site bar is hosting live music performances, karaoke nights, quiz nights and daily happy hours. Guests can also enjoy several common areas and daily social activities like arts and crafts events, yoga classes, and much more.
Average dorm price: 32.67 €
9.0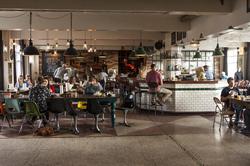 Kex Hostel Reykjavik
KEX is a great social hostel, located in the city centre near the bars, clubs, and music venues. Their on-site pub is always bustling and offers daily happy hours and great prices on drinks. Lounge area and heated outdoor patio are cool spots where you can meet other travellers and chill.
Average dorm price: 22.51 €
8.5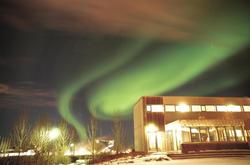 Reykjavik City HI Hostel
This is a huge social hostel, especially recommended for solo travellers and backpackers. Common areas are always crowded with people, happy to chat and make new friendships. The hostel features amazing café and bar where guests can enjoy local drinks and coffee. There is also a recreational room for sports activities, and a fully-equipped kitchen perfect for group dinners.
Average dorm price: 18.15 €
What are the Party Hostels in Reykjavik like?
Best Party Hostels in Reykjavik: Reykjavik Loft HI Hostel; Kex Hostel Reykjavik; Reykjavik City HI Hostel
Party hostel style: Fun social hostel
Craziness level: fairly crazy
Parties on-site: Bar onsite
Pub Crawls: Yes
Hostels in Reykjavik are offering community vibes and chilled atmosphere, more than wild parties and crazy events. Although they have tons of fun activities and common areas, drinking and loud music is something you should leave for pubs.
Nightlife in Reykjavik
Reykjavik is a small city compared to other European capitals, but the city offers a tremendous entertaining scene and nightlife. With centrally-located party life, Reykjavik is a paradise for party maniacs, especially for the real bar-crawl fans. Pubs and bars are the most attractive social spots, especially the ones located in the main street. They host regular jazz concerts, karaoke events, tango sessions, and even bachata dance nights.
Basic information about nightlife in Reykjavik:
Pubs and clubs closing times:

Bars and pubs: Monday to Thursday until Monday to Thursday until 01 am – Weekends until 02 am
Clubs: Monday to Thursday until Monday to Thursday until 01am – Friday and Saturday at 04:30am

Average cover charge for clubs: Free (except for special events like live bends)
Average price of a pint of beer: 6 - 8 €
Famous neighbourhoods for partying: City Centre, Old West side
Famous events or parties: Sonar Festival - last week in April
Best Party Areas in Reykjavik
Most of Reykjavik's nightlife is concentrated in the city centre. This is actually a huge advantage of Reykjavik– every cool party place can be reached by foot. City Centre and Old West Side are literally next to each other, so skip the taxi or public transport if you want to explore both areas at once.
Party in City Centre
Reykjavik City Centre is buzzing and most vibrant area with lots of great places where you can grab some local food, great beer, and wine.
Húrra is very popular among the locals. The place is hosting live music and fantastic tap beer. On weekends, you have to come early if you don't want to spend your night in front of the door. Pablo Discobar is a trendy bar with amazing service and funky vibes. Lebowski Bar is an awesome themed bar, perfect for big groups and drinking games lovers.
Party in Old West side
Right next to the City Centre, there is a charming and chilled Old West Side area with more bars and restaurants. The area is not that wild as the City Centre, but there are quite good places where you can start your night with amazing local food and drinks.
If you want to eat like a local, check out the Sægreifinn restaurant. With a regular meal deal of the day and super tasty lobster soup, the place is very famous among the locals. Slippbarinn is a chilled and cosy bar with daily 3-6pm happy hour. The place is popular for fantastic cocktails and great music.
Dress codes & age restrictions
Pubs and clubs in Reykjavik don't have a strict dress code, but you have to be at least 20 to enter the party. This is also the legal minimum for drinking in Iceland. The locals take the age restrictions very seriously, and ID checks are something you simply can't skip.