0.0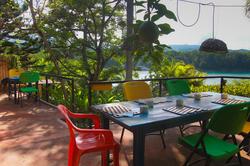 Eco Zion Country Beach Cabins
Amazing party hostel with a private beach area and a nice garden where you hang out with other travellers. Colourful on-site bar with a vibrant atmosphere is always crowded with travellers . There are plenty of group activities like hiking, canoeing, fishing, snorkelling, local tours, games nights, etc. Free health breakfasts included.
Average dorm price: 999999.0 €
Porty Hostel Port Antonio
Fabulous social hostel with friendly and helpful staff. The hostel features nice common areas designed to encourage guests to hang out together. A spacious kitchen is a perfect place for cooking your own food and group dinners. And for real party animals, they organize crazy drinking games in their bar, and fun pub crawls.
Germaican Hostel Port Antonio
Beautiful social hostel, highly recommended for nature lovers and young travellers. The hostel features a nice garden, terrace with amazing views, a picnic area with a fireplace, and a cool bar. Regular social activities like hiking, walking tours, snorkelling, and fishing are perfect for bonding with other backpackers. Plus, they serve fresh homemade breakfast every morning.