8.8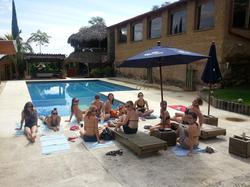 La Villada Inn Hostel
Crazy and fun party hostel with amazing pool and garden. Several common areas are ideal for eating, drinking, playing pool or foosball with friends or fellow travellers. A lively on-site bar is a great place where locals and backpackers like to mingle. The bar is hosting crazy parties on Fridays and Saturdays.
Average dorm price: 13.53 €
9.2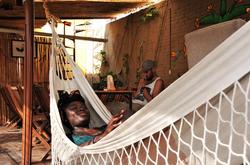 Azul Cielo Hostel
Nice social hostel well-located, just a short walk away from the famous bars and restaurants in the downtown. There are lots of activities for guests like city tours, cooking classes, hiking, horse riding, language lessons, etc. A beautiful garden full of native plants is the perfect spot where you can meet other travellers. Free healthy breakfast included.
Average dorm price: 8.13 €
9.1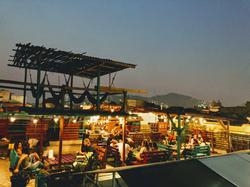 Iguana Hostel Oaxaca
Amazing hostel with a huge terrace where you can enjoy your favourite drink and watch the stunning sunsets. Indoor/outdoor eating areas and a cool on-site bar are great spots where you can bond with other backpackers. They have cosy hammocks and cinema screen with comfy seating for chilling. Right next to the pedestrian street crowded with shops, bars, and local restaurants.
Average dorm price: 8.65 €