8.5
Hoalu Backpacker Homestay
Fun party hostel with plenty of group activities available like fishing, hiking, bamboo rafting, cooking classes, etc. The hostel features a nice swimming pool where you can enjoy daily parties with nice food and cheap drinks. The sun terrace and on-site bar are also great social spots for backpackers.
Average dorm price: 5.39 €
8.0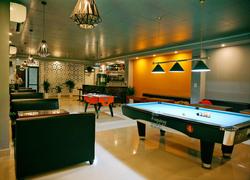 Ninh Binh Central Backpacker Hostel
Perfectly located social hostel, nearby the most popular local bars and restaurants. The hostel features a huge common area with table tennis and billiard table. There is also a cool bar with cheap drinks, great atmosphere, regular events, and nice music. Free tasty breakfast available every morning.
Average dorm price: 4.49 €
Hoalu Eco Mountain Homestay & Bar
The hostel features an amazing vibrant bar always crowded with locals and travellers. You can hang out at the swimming pool and Jacuzzi, enjoy parties and BBQ events. There are water sports facilities available to all guests. Group activities are perfect for bonding with other backpackers so feel free to go for fishing, cycling, hiking and bamboo rafting.
Average dorm price: 5.6 €