9.0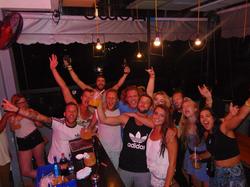 iHome Nha Trang
Crazy party hostel with a vibrant atmosphere and daily parties. The hostel features an amazing rooftop bar with daily happy hour deals and free bears for all the guests. The bar's specialties are tasty cocktails with great prices. Plus, there is a cool escape room where you can test your detective skills and have fun with other travellers.
Average dorm price: 4.49 €
Mojzo Dorm Nha Trang
Fun party hostel surrounded by famous of local bars and clubs. They organize group dinners where guests meet other travellers. Enjoy free bears in a huge common area before going out. Pub crawls are something you can't miss. The helpful staff is always happy to share useful tips about the city.
Ninhvana Backpacker Hostel
Ninhvana is the perfect party hostel, highly recommended for young travellers and students. The hostel is right at the beachside in the Ninh Van Bay, where you can find crazy beach bars and clubs. They organize cool pool parties, with DJs and great cocktails. The hostel features a huge bar, spa service, amazing outdoor cinema, table tennis, pool table, and great outdoor gym.
Average dorm price: 5.53 €