8.1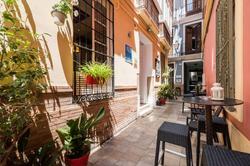 Feel Hostels City Centre
This vibrant party hostel features a chilled out cocktail bar and an amazing terrace ideal for meeting and getting to know new people. The staff are very sociable and they organise various city tours, social activities and theme nights to help guests mingle with one another. The bar area is perfect for partying with great music and free sangria. The hostel is located right in the historical centre of the city and numerous other restaurants and bars are at a close distance for guests to have easy access to the city's nightlife.
Average dorm price: 14.74 €
8.4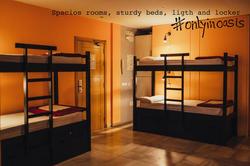 Oasis Backpackers' Hostel Malaga
This lively hostel, as its name suggests is ideal for backpackers to have a happening stay. There are lots of great lounge areas for guest socialising. There is a cool rooftop terrace with a bar and another bar downstairs that offer delicious drinks at great prices. The friendly staff organise endless activities for their guests, like free walking tours, pub crawl, Beer Olympics and many more events. Fun hostel with an amazing party atmosphere.
Average dorm price: 17.0 €
8.4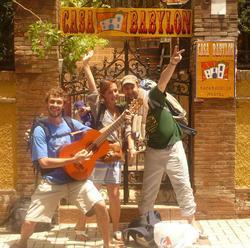 Casa Babylon Backpackers
This beautiful hostel features spacious and comfortable common areas that include an outdoor terrace, a unique chill-out area and a great bar. They have guitars and hammocks to add to the relaxed vibe of the place. To encourage guest socialising, the hostel has activities like table tennis, tapas tours and restaurant hopping. The hostel has great musical and party vibe and is ideal for travellers interested in meeting like-minded people.
Average dorm price: 18.0 €
What are the Party Hostels in Malaga like?
Best Party Hostels in Malaga: Feel Hostels City Centre; Urban Jungle Hostel; The Lights Hostel
Party hostel style: Party hostel
Craziness level: proper party hostels
Parties on-site: Bar onsite
Pub Crawls: Yes
Party hostels in Malaga are hosting regular social events and parties for all the guests. Most of them have designated party areas or on-site bars where drinking games and happy hours are regularly on the menu.
Nightlife in Malaga
During the peak season, nightlife in Malaga is nothing less exciting than in Ibiza. Thousands of tourists are rushing to the main party areas where they can taste some of the best tapas and sangria in Spain. The city offers everything you could imagine – vibrant bars, cosy lounges, extravagant and underground clubs.
Basic information about nightlife in Malaga:
Pubs and clubs closing times:

Bars and pubs: Monday to Thursday until Monday to Thursday until 02 am – Weekends until 03 am
Clubs: Monday to Thursday until Monday to Thursday until 06am – Friday and Saturday at 07am

Average cover charge for clubs: 7 - 15 € (including one drink)
Average price of a pint of beer: 2 - 3 €
Famous neighbourhoods for partying: Mitjana Square; La Malagueta; El Palo Y Pedregalejo; Unicibay Square
Famous events or parties: Málaga Feria - August
Best Party Areas in Malaga
Most famous and crowded party districts are Mithana Square (and side streets) and La Malagueta District. Both very popular among tourists and locals, they have lots of bars, pubs, and clubs open during the whole year.
Party in Mitjana Square
Great area to start the night. Mitjana Square and side streets are home to lots of bars and discotheques. Different music genres and hits are on from early evening hours. Plus, most of the places are offering huge discounts on drinks if you get there early.
Famous party places, especially among young people and students, are lively Urbano and fantastic La Botellita. Both places are hosting regular parties and famous musicians and DJs. If you are a first-timer in Malaga and you want to experience the wildest party in the city, check out the lively Sala Gold club. The club is known for a fantastic atmosphere, extraordinary dancers, and even better cocktails.
Party in La Malagueta
The area has higher prices compared to Mitjana Square, but also more exclusive clubs and bars. During the summer, there are plenty of live concerts and events. The area is located just a couple of minutes from the city centre.
For typically Irish pub experience, Camden Town Pub is the best in the city. Another great place with excellent beer is El Café de María. Chiringuito Mami Beach is known for amazing cocktails and vibrant atmosphere. And if you get hungry, they have amazing traditional cuisine and snacks.
Dress codes & age restrictions
Nightclubs and bars in Malaga have the same age restriction which is 18 years. For drinking alcohol in other places, the rule is the same. The locals are pretty serious when it comes to this rule, so don't get surprised if the waiter or security guy asks you to show your ID.
When clubbing, you can wear casual and smart casual outfits. Giving some extra effort is a huge plus, but the jeans and t-shirts are also good combination. Stay away from sneakers, flip flops, and shorts if you don't want to get kicked from the club.