9.2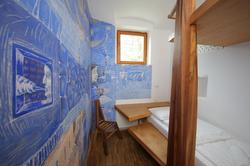 Hostel Cecila
Housed in a part of the Ljubljana Castle, this hostel has an unique interior design and a lively, out and out party atmosphere. Its cafe, garden terrace and other common areas are idea for hanging out with other travellers. The staff are extremely helpful and they organize guided tours, excursions around Slovenia. There is a bar with cheap drinks and a cheerful environment for socialising with fellow guests. Daily events organised at the hostel include live music at the bar and daily parties in the lobby. The hostel is located in a funky neighbourhood and the Metelkova City area with bars, pubs, galleries and museums, theatres are at a walking distance from the hostel. It is an amazing party hostel and ideal for having fun with new friends made while travelling.
Average dorm price: 20.0 €
8.9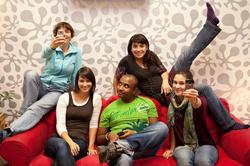 Zeppelin Hostel
The hostel is located in the centre of Ljubljana in a nineteenth century building. Run by a team of travellers, this is a hostel with a great social vibe. The small but cosy communal areas are great to hang out with other travellers and have a good time. The common room has TV. The staff are friendly and very helpful. The hostel provides easy access to some of the city's greatest bars, pubs and nightclubs.
Average dorm price: 19.0 €
9.0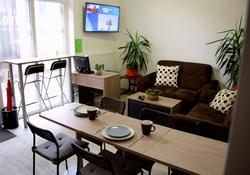 Hostel Tivoli
Situated in the middle of the city across from the Tivoli Park, the hostel is staffed by travellers and it has a great social vibe. Guest socialising is highly encouraged and the common areas in the hostel are perfect for that purpose. The staff are beyond friendly and helpful and they host a variety of different activities like regular trips and tours around the city. There are often in-house theme nights such as "blueberry schnapps night". The environment is very open and is perfect for both solo and group travellers.
Average dorm price: 17.0 €
What are the Party Hostels in Ljubljana like?
Best Party Hostels in Ljubljana: Hostel Cecila; Zeppelin Hostel; Hostel Tivoli
Party hostel style: social hostel
Craziness level: not too crazy
Parties on-site: bars on-site
Pub Crawls: Yes
Most of the hostels in Ljubljana have amazing common areas, designed to encourage guests to meet each other. Although they are more like social than party hostels, they have plenty of group activities and regular pub crawls.
Nightlife in Ljubljana
Even though Ljubljana is not as big as other capitals in Europe, the city has a pretty wild party scene. Locals like to party and dance until the early morning hours. The craziest parties are happening on weekends, especially on Fridays. Summer is the best time of the year to explore the vibrant nightlife in Ljubljana, but the wintertime and indoor parties offer nothing less excitement.
Basic information about nightlife in Ljubljana:
Pubs and clubs closing times:

Bars and pubs: Monday to Thursday until Monday to Thursday until 01 am – Weekends until 03 am
Clubs: Monday to Thursday until Monday to Thursday until 05am – Friday and Saturday at 06am

Average cover charge for clubs: free - 25 €
Average price of pint of beer: 3 €
Famous neighbourhoods for partying: Metelkova district, Downtown
Famous events or parties: Ljubljana Jazz Festival, mid of June
Best Party Areas in Ljubljana
A huge advantage of Ljubljana is the fact that the nightlife is centrally located. Party districts are very close to each other, and you can explore them easily without taking public transport. The City Centre and Metelkova district are definitely the most popular areas, always crowded by locals and tourists.
Party in Metelkova district
Former military headquarters, the Metelkova district is one of the most vibrant areas in Ljubljana today. The area is crowded with various clubs and bars, unconventional restaurants and modern pubs. Right next to the city centre, the area is attractive to both locals and tourists.
Metelkova Art Centre, Club Monokel, and famous Yalla Yalla bar are the most popular in the area, and very close to each other. Although they have different music styles and interior, they all attract young guests and serve amazing craft beer and cocktails.
Party in Downtown
The heart of the city centre offers great local bars and restaurants, with local and international cuisine. Some local pubs serve amazing craft beer so don't miss to try it. The popular tourist attraction Three Bridges (Tromostovje), is surrounded by great party places, Here, you can find plenty of cool bars and pubs lined next to the river.
If you end up in the Downtown area, make sure you visit some of the best local party spots like Makalonca or Bar Local. Magda bar has regular happy hour deals, while Okrep?evalnica Petkovšek Miha serves a wide selection of local and international beers.
Dress codes & age restrictions
If you want to party like a local, then dress like a local. Slovenians like the smart casual look, so try to avoid sportswear if you don't want to get kicked from the bar. The summer nights can be fresh sometimes, so you should definitely skip wearing your favourite flip flops.
Even though the official age limit for most of the clubs is 18 years, the security guys are not that strict. Most of them will not even ask you for your ID, but you should definitely have it with you, just to be on the safe side.