The Kasbah Hostel
Fun party hostel with amazing vibes. The hostel features huge on-site Café & Bar, with daily happy hour deals and discounts. The bar is famous for hosting local artists, musicians, and interesting exhibitions. Live music performances are perfect events where guests can relax and start new friendships.
Average dorm price: 7.51 €
The Crowded House
Nice hostel with a cool bar and plenty of drinks available. Great common areas with daily events where everyone meets each other. Enjoy movie and BBQ nights, play your own music in a common area, and dance all night long. The friendly staff will help you to explore the island with organized tours and useful tips.
Average dorm price: 4.72 €
8.1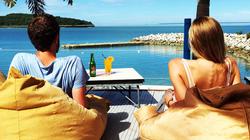 Tubotel Hostel
Tubotel Hostel features cool futuristic rooms made of giant drainage pipes and painted in various colours. The unique design and great atmosphere will make you feel great every day. The guests are welcomed to chill in a huge common area, play pool and watch remarkable sunsets. The staff is very welcoming, hilarious, and easy-going.
Average dorm price: 5.9 €