9.2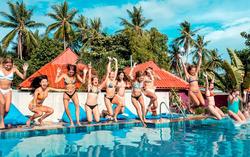 Slumber Party Koh Phangan
Super cool party hostel with a vibrant atmosphere. Just a few steps from Ban Tai Beach where you can also enjoy daily parties and events. The hostels feature huge pool and an outdoor area where you can meet other backpackers. There is also a nice bar with a wide selection of cocktails and drinks. After partying in the hostel, don't miss to join pub crawls with other guests.
Average dorm price: 7.29 €
8.9
Goodtime Beach Backpackers
Crazy party hostel placed right at the beach, with a great 24h open pool. The hostel features an amazing beach bar where you can meet locals and other travellers. There is also a beautiful outdoor space under a lush green canopy, where you can chill or join fun activities organised every day.
Average dorm price: 7.29 €
9.1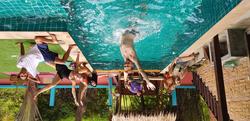 Mad Monkey Hostel Koh Phangan
Mad Monkey is a true party hostel, with daily fun activities like karaoke nights, pre-full moon parties, beer pong, etc. The coolest event is a party with free neon paint. Great pool and outdoor area and daily activities are making socializing with other guests so easy. The friendly staff will share all the cool tips about hidden gems of the island.
Average dorm price: 7.29 €