9.1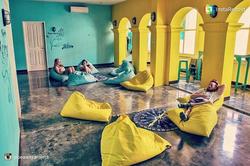 Wonderloft Hostel Jakarta
Amazing social hostel right in the heart of colonial Jakarta and just a 4 minutes walk from the iconic cafe Batavia and Bar. Great local street food spots, bars, and coffee shops are literally a step away. A spacious common room with fun vibes is always crowded with travellers. The group activities are organized every day, like twister competition, poker night, karaoke, pool tournament, etc.
Average dorm price: 6.3 €
9.0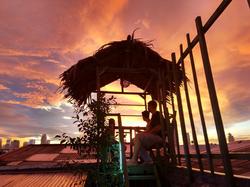 Six Degrees Hostel
If you prefer to stay in a vibrant neighborhood, Six Degrees is the hostel for you. There are plenty of local restaurants, bars, and other entertaining stuff right next door. The hostel features a nice rooftop garden where you can enjoy sunrise yoga and sunset drinks. Spacious lounge-café at the ground level is hosting daily movie nights and pool tournaments.
Average dorm price: 6.6 €
8.8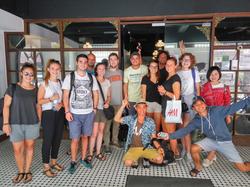 Capsule Hostel Jakarta
Amazing party hostel located in the party area, right next to the most popular 56th rooftop bar in Jakarta. The hostel features an amazing rooftop garden and terrace where you can chill, drink, and dance the night out. Happy hours deal starts when the sun goes down. Plus, the hostel offers a super tasty free breakfast, tea, coffee, and bottled water during your stay.
Average dorm price: 0.9 €