9.3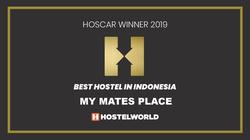 My Mate's Place Hostel Gili
Crazy and fun party hostel with a huge, buzzing social area. During the day, you can chill here with other travellers, play social games and drink your favourite cocktail. In the evening, friendly staff will take you for a night out, and show the main party spots on the island. And after the crazy night, there will be a free tasty breakfast waiting for you.
Average dorm price: 13.2 €
9.3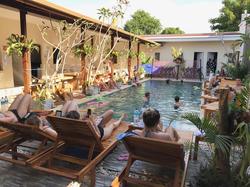 M Box Hostel Gili
M Box has buzzing common areas where you can have a fun game of beer pong while enjoying your favourite drink. There is an amazing on-site bar, with cheap beer and cocktails. From the moment you enter the place, you will feel the nice vibes and sense of a chill community.
Average dorm price: 9.0 €
8.7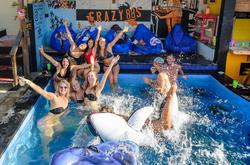 Gili Castle Hostel
In Gili Castle, the party is on 24/7. You can party by the pool, challenge a 6-meter tall climbing wall and then jump into the pool. Crazy ha? There is a vibrant on-site bar where you can enjoy day and night parties with amazing deals on drinks. Well-located, near the local restaurants and beach bars.
Average dorm price: 11.4 €