9.2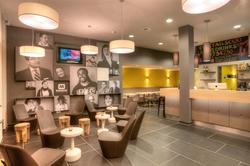 Meininger - Main Messe
The hostel features a great on-site bar, always bustling with people. Guests are welcomed to bring their animal's best friend. Modern and colourful common area, equipped with a pool table and plenty of games, is a perfect spot where travellers gather and hang out.
Average dorm price: 999999.0 €
9.1
Meininger - Airport
Well-located for early arrivals or late departures from the airport. Meininger hostel offers you cosy and modern rooms, instead of going tired all the way to the city centre. Meet other travellers in the hostel's bar or café. Great social hostel with table poker and billiard, perfect for making new friendships.
Average dorm price: 23.0 €
8.4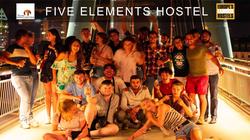 Five Elements
If you are looking for a crazy and party hostel close to everything, what could be a better location than the city's red light district? All the main attractions, bars, and clubs are literally a walking distance away. Every Tuesday and Thursday, there is a local street market just behind the corner, with great local food, beer, and wine.
Average dorm price: 17.72 €