9.1
Outpost Beach Hostel
Amazing social hostel with great outdoor common where guests like to chill. There is a huge on-site bar with super fun and sociable atmosphere. Daily parties and events are welcoming travellers and locals. You can also enjoy a tasty BBQs on Sundays. And if you need a break from the sun, enjoy a cosy lounge with PS3 and Nintendo 64.
Average dorm price: 8.62 €
8.9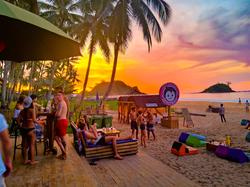 Mad Monkey Nacpan Beach
Crazy party hostel with a nice atmosphere, located right at the beach. The hostel features an amazing on-site bar where you can dance all day and all night. Happy hours with free shots and great deals on drinks are the symbol of this party house. They also organize a beer pong, fun quiz nights and karaoke sessions.
Average dorm price: 7.59 €
9.4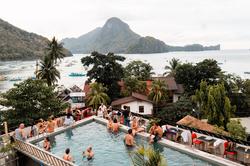 Frenz Hostel El Nido
Frenz Hostel El Nido is a friendly place where you enjoy great drinks, food, and specialty coffee. A vibrant on-site bar is a place where travellers like to hang out and mingle. Resident DJs and live music events are heating up the atmosphere every day. The friendly staff is always happy to chat and share useful tips and information.
Average dorm price: 17.07 €