9.4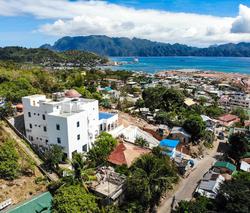 Hop Hostel Corona
Perfectly located party hostel, nearby the beach, and local bars and clubs. The hostel features an amazing rooftop terrace with a vibrant bar always crowded with travellers. There are lots of group activities in the common areas every day. Plus, they organize great tours, boat trips, and plenty of fun sports activities.
Average dorm price: 8.61 €
The Hub Backpackers Hangout
Crazy party hostel with awesome vibes, right in the centre of the party zone. Their bar is a great place to start the adventure, with cheap beer and free drinks every afternoon. The hostel features a huge kitchen and outdoor BBQ facilities, perfect for group dinners. The staff is super friendly and always happy to share useful tips and fun stories.
Average dorm price: 4.96 €
Fat Monkey Hostel
Cosy social hostel with a nice atmosphere. The cool on-site bar offers daily discounts on drinks and happy hour deals. The spacious common area is a perfect social spot where you can meet other travellers. The friendly staff will take care of you and help you explore the island by booking the best and cheapest tours and trips. Free healthy breakfast served every morning.
Average dorm price: 5.98 €