9.5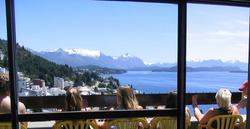 Hospedaje Penthouse Bariloche
Fun social hostel with modern design and amazing views of the lake. The huge common room is always crowded with travellers from all over the world. They have plenty of board games perfect for guest socializing. The fully equipped kitchen is a great spot where you can enjoy group dinners and even new recipes. Free breakfast included.
Average dorm price: 10.91 €
7.9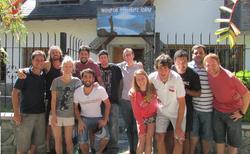 Universal Travellers Lodge
The hostel features a seasonal outdoor swimming pool, garden, a bar, and lounge. The communal areas are designed to encourage guests to meet each other and make new friendships. They organize fun excursions and actives like skiing, hiking, horse riding, city tours, etc.
Average dorm price: 16.17 €
Green House Hostel
Fun social hostel, highly recommended for students, digital nomads and adventurers. The hostel features nice common areas where you can chill and meet other backpackers. There is also a cool on-site bar with special deals on drinks. If you are too lazy to cook, free breakfast is included in price.
Average dorm price: 9.92 €