9.5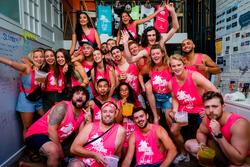 Slumber Party Hostel Bangkok
Thailand is well known for the party atmosphere, and the Slumber Party Hostels group contributes to that. One of the highest rated party hostel groups. Bangkok of course is one of their destinations in the country, and you will find always something going on in this hostel, with parties, events and activities being organised by a friendly and fun staff that will make your visit wild!
Average dorm price: 5.83 €
9.0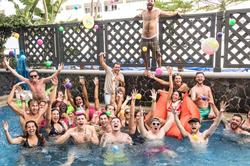 Mad Monkey Hostel Bangkok
Located just off the famous Khao San Road, there is always going on at this hostel. And they have a pool! Their pool parties are legendary, and they organise regular events like pub crawls, karaoke nights, limbo Fridays and more. They also have one quiet floor, which would allow for you to enjoy the most of the party hostel scene while also getting a good sleep. Definitely worth considering. Did we already say swimming pool parties?
Average dorm price: 9.63 €
9.1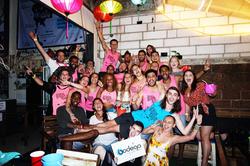 Bodega Bangkok Party Hostel
Another classic in Thailand's best Party Hostel Groups, with special care for the comfort and conveniences of a modern backpacker hostel. With a funky, social and fun atmosphere, the friendly staff organises pub crawls, market crawls, bike & walking tours, nightly drinking games and good food & booze. Great choice if you're looking for good people and good vibes.
Average dorm price: 5.8 €